With over 60% of participants hailing from outside the UK, this is the most international demographic in Clipper Race history. The event was streamed live so crew around the world could join in on the day's action, with viewers tuning in from far-flung destinations such as Canada, Dubai, Singapore and Israel.
Emotions were running high as Race Crew arrived at the venue, eager to find out which Skipper, AQP and fellow crewmates they would be embarking on the adventure of a lifetime with. They were joined by over 100 Race Crew Supporters (family and friends of the courageous crew), who were equally excited to share the experience.
Suzana Dinic, age 50 from Germany, who signed up to the Clipper Race to challenge herself, and prepare to live on a boat in future, spoke to us just before the teams were revealed. She said: "My heart is pumping! Everything has become real and it's so exciting and very surreal!"
Speaking as Race Crew arrived, Sir Robin Knox-Johnston, Clipper Ventures President commented: "Today is an interesting day for the crew: they will find out who they are going to be living with in very fine quarters for months at a time. They are going to find out who they are going to mix with, and make new friends to share the challenge of ocean racing but also the huge pleasures that come with it. We say welcome, enjoy the day and then start really preparing yourself. We are only three months from the start now!"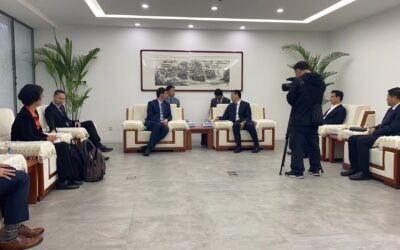 Managing Director of Clipper Ventures Chris Rushton and Yan Hu, General Manager of Clipper China, visited six cities (Beijing, Qinhuangdao, Dalian, Qingdao and Shanghai) in eight days, meeting CYA and several city governments and future partners in a number of cities, focusing on the offshore sailing training system and offshore sailing race event management.