The Yacht Racing Forum is an annual conference for the business of sailing and yacht racing. Originating in 2008 in Monaco, it has become over the years a must-attend event for anyone involved in yacht racing.
This year, the international yacht racing community, including Clipper Ventures Managing Director Laura Ayres, and 250 influential leaders, figures and delegates, met in Malta for two days of networking and insightful discussions. Joining Laura in attendance was Clipper Ventures Business and Marketing leaders Alex Carr and Katharine Schäfli. A huge range of topics were covered spanning the state of the sport as a whole, technical and technological advances, engineering, participation, sustainability, media and commercial value of sailing and opportunities for growth in the sector.
Laura joined the panel discussion alongside Laurence Mead (Cowes Week), Luca Rizzotti (The Foiling Week) and Matt Shehan (PlanetSail) to look at the extreme and spectacular side of professional sailing, and whether it is promoting or harming the businesses of the sport.
Recognised in the industry for giving adventurous Corinthian sailors access to the thrill of ocean racing, and for its strengths as a platform for community and economic growth, the flagship Clipper Race was a focus of the discussion.
Speaking on the panel, Laura Ayres said: "Inspired by fellow races such as Vendee Globe, the Ocean Race or Sail GP for example, Clipper Ventures provides access to ocean racing that other platforms, brands and races are not set up to do. As property owners we have a responsibility to collaborate together, opening the door to new market opportunities to sustain growth of the industry. We each have our unique role to play."
A testament to Clipper Ventures' strengths, gender equality, equal opportunities, youth participation and sustainability were common threads running through many of the sessions.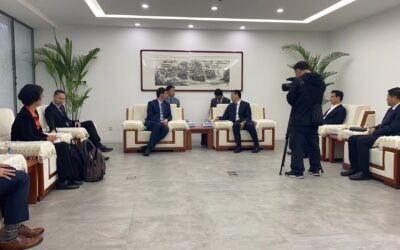 Managing Director of Clipper Ventures Chris Rushton and Yan Hu, General Manager of Clipper China, visited six cities (Beijing, Qinhuangdao, Dalian, Qingdao and Shanghai) in eight days, meeting CYA and several city governments and future partners in a number of cities, focusing on the offshore sailing training system and offshore sailing race event management.
read more