Britain's leading sailors are paying tribute to Sir Robin Knox-Johnston today on the 50th anniversary of the date, 22 April 1969, that he entered history books as the first person to ever sail solo, non-stop around the world.
"To me, Sir Robin is an iconic figure and one of the greatest sailors to ever set foot in a boat." Said Sir Ben Ainslie, Britain's most decorated Olympic sailor, during filming for a documentary about the achievement, which took place in the same year of the first moon landing.
Sir Ben added: "The Golden Globe and Sir Robin Knox Johnston's amazing triumph against the rest of the world, winning for Britain, was an amazing feat of seamanship and something that will never be forgotten."
Sir Robin and his 32-ft yacht from that voyage, Suhaili, which has been lovingly hand-restored, along with a support flotilla, are heading back to the same spot on the water in Falmouth Harbour today to re-create the exact time, 1525, when he crossed the finish line of The Sunday Times Golden Globe Race and returned home to scenes of national jubilation after 312 days alone at sea.
Leading round the world yachtswoman Dee Caffari commented: "We often talk about the achievement of being the first man on the moon, and I think you can make a very similar comparison to Sir Robin for sailing around the world. He created that first non-stop sail that nobody thought was possible. It hadn't been done until he completed it and he laid that pathway for all of us to follow."
Inspired by Sir Francis Chichester, who had sailed around the world but had stopped in Australia, there was one achievement left in Robin's mind; to be first to go solo, non-stop. He faced huge challenges in his quest to complete the unknown. Not only during the journey itself but also from sceptics. Could it actually be done? Would the boat hold up? Wouldn't you go mad? How long would it take? Was Robin the man to achieve this feat?
A real-life story of the underdog, he received no sponsorship other than 120 cans of Tennants beer and a £5 Cadbury voucher. When he set sail from Falmouth on 14 June 1968, aged 29, he had jaundice but hid it as he feared he would have been stopped from going. Before the days of GPS satellite technology, he had only the same navigational tools as Captain Cook; the stars and a sextant. He had to fix a leak in the side of his yacht in shark infested waters, and not too far into his journey, he lost his freshwater tanks when his boat was knocked down by a wave, leaving him having to catch rainwater in his sails to survive.
Later, Robin lost all contact after his radio broke, and was presumed lost at sea for over four months before being reported alive by a British tanker just weeks from the finish line. He was also crippled with stomach pain in the latter stages and years later found out his appendix had likely burst, but still he carried on, dedicated to his mission. He also famously never officially entered the race, but the Sunday Times built the entry rules around his plans.
Of the nine people who set out in quest of becoming the first to circumnavigate solo, non-stop, the sailing equivalent of climbing Mount Everest, Sir Robin was the only one to complete the journey.
Comparing the experiences Sir Robin had fifty years ago compared to his own, British solo yachtsman Alex Thomson, the youngest Skipper to ever win the Clipper Race, on board Ariel in the 1996 edition, says: "People ask what it is like now compared to when Robin did it in 68-69. And for me there's no relation, you know for one, I need to have some reasonably constant communication with my team, with my family. I need to have that feeling that I have some control over the abilities where I'll talk to people, whereas back then Robin didn't have that.
He added: "The thought of doing more than 300 days… that's a different level, that's a completely different scale, so I can't see that what it is now is as hard as it was then. Perhaps the speed makes it more difficult, you know the stress of the speed being able to do 40 knots and instead of perhaps six or seven as a top speed, but still I would never choose to do what Robin did."
Various public celebrations took place over the weekend in Falmouth, including the unveiling of a brass footprint cast in Falmouth Haven marina to mark Sir Robin's last steps as he departed on 15 June, 1968, and his first steps back on land 312 days later. An exhibition of recently unearthed images from his journey are also on display until 1 September at the National Maritime Museum Cornwall.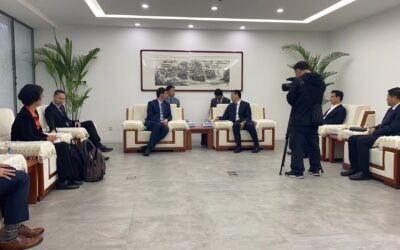 Managing Director of Clipper Ventures Chris Rushton and Yan Hu, General Manager of Clipper China, visited six cities (Beijing, Qinhuangdao, Dalian, Qingdao and Shanghai) in eight days, meeting CYA and several city governments and future partners in a number of cities, focusing on the offshore sailing training system and offshore sailing race event management.
read more