History was made this summer when Wendy Tuck became the first woman to win a round the world yacht race and her sailing success has already inspired more women to consider taking part in this epic challenge. And we have discovered that a female topping the podium has led to more interest from women than ever before.
Following the Clipper 2017-18 Race Finish, we've seen interest from women increase by 115% for the month of July, when Wendy and her Sanya Serenity Coast team scooped the overall top spot, compared to the previous month. This spike continued into August, with a 44% increase in requests for application packs.
It was a landmark year for the Clipper Race as not only did a female skipper take first position in the 40,000 nautical mile race, Nikki Henderson, 25, from Guildford, Skipper of Visit Seattle claimed second place too. Male application requests are still higher than female however the female one-two legacy is hoped to encourage more women to consider taking on this adventure in the 2019-20 edition of the race or in the future.
Says Della Parsons, Clipper Race Crew Recruitment Director, who took part in the race herself in 2009-2010 says: "Having women take the top two spots of our podium is certainly having a positive impact. We've been busy recruiting since the Clipper 2017-18 Race finished and the big spike in interest from women is testament to Wendy and Nikki's making history this summer. On a global stage they proved that gender is irrelevant in leadership and if this gets just one more girl dreaming big then these wins have broken barriers beyond just sailing.
"It is rare for men and women to compete together in sport so it's no surprise that this landmark win has helped shift the balance. Potential recruits have told me seeing Wendy and her team celebrate their victory spurred them on to apply to be crew in the next race. We've had occasions when it has been an all woman room on interview days and this is unprecedented.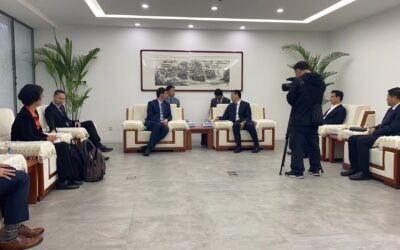 Managing Director of Clipper Ventures Chris Rushton and Yan Hu, General Manager of Clipper China, visited six cities (Beijing, Qinhuangdao, Dalian, Qingdao and Shanghai) in eight days, meeting CYA and several city governments and future partners in a number of cities, focusing on the offshore sailing training system and offshore sailing race event management.
read more